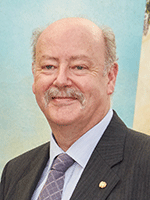 A. Robert Hillman has over 30 years of experience in the fields of electrochemistry and interfacial science. Within these fields, his research interests can be divided into the areas of interfacial characterisation, electroactive materials, thin films and the development of non-electrochemical techniques for surface analysis.
Hillman is currently a professor at the University of Leicester. His research interests are in the field of interfacial electrochemistry, with particular focus on new materials and their use in surface modification. This involves development and application of in situ characterization techniques, including spectroscopies (from the X-ray to the infra-red region), optical and neutron reflectivity, and acoustic wave methods. The underlying goal is elucidation of molecular explanations – composition, structure and dynamics – for observed macroscopic interfacial behavior.
Throughout his career, Hillman has been involved with many scientific societies. He has served the International Society of Electrochemistry in a number of roles, from UK National Secretary (1994-1998), Secretary General (1999-2005), Chair of the Scientific Meetings Committee (2006-07) to President (2009-2010).