ECS President | 1923-1924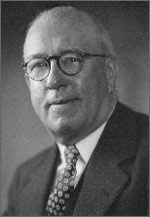 Arthur Thatcher Hinckley was born in Rosindale, Massachusetts on March 21, 1887. He studied at the Massachusetts Institute of Technology where he received the degrees of Bachelor of Science and Master of Science in the years 1908 and 1909. Soon after graduation, Hinckley accepted a position as chemist of the National Carbon Company, Niagara Falls, N.Y. Later he had the title of Technologist of the Electrode Division.
Mr. Hinckley joined The Electrochemical Society in 1912 and was active due to his deep interest in the advancement of electrochemistry and electrothermics. He served on the Board of Directors in the offices of Manager and Vice-President. In addition to his scientific and technical achievements, his attractive jovial personality made him a popular member of the Society.