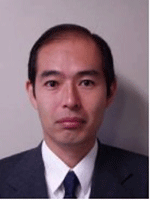 Hiroshi Imahori is a professor at Kyoto University and a principal investigator at the university's Institute for Integrated Cell-Material Sciences. His current research interests include artificial photosynthesis, organic photovoltaics, organic functional materials, and drug delivery systems.
For his work, he has received the Japanese Photochemistry Association Prize (2004), Japan Society for the Promotion of Science Prize (2006), the Chemical Society of Japan Award for Creative Work (2006), the Tokyo Techno Forum 21 Gold Medal Prize (2007), the Osaka Science Prize (2007), and Japan National Institute of Science and Technology Policy Research Award (2007).
To date, Imahori has written more than 280 original papers and 30 review articles. He has been actively involved in ECS affairs since 1996 and is currently Vice Chair of Nanocarbons Division. He was a member of Advisory Board of ChemSusChem (2007-2015) and The Journal of Physical Chemistry (2009–2011). He is a Deputy Editor-in-Chief of the Journal of Materials Chemistry A and a member of the Advisory Board of Materials Horizon and Applied Materials Today.