ECS Treasurer | 2006-2010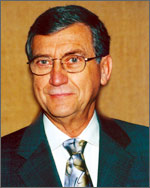 John R. Susko in his distinguished professional career, has been a corporate executive, entrepreneur, and chief technologist. In 1993, Susko founded JRS Technology, where he was president and CEO. His responsibilities included research, development, and product certification of state-of-the art energy management systems for building lighting and controls, as well as financial, sales, and personnel aspects of the business. Prior to this, John Susko was a senior engineer in IBM, where he held numerous engineering and management positions in the research and development of advanced materials and technologies critical to IBM. As technical advisor to the Division Laboratory Director, he developed the IBM strategic roadmap for electronic packaging technology and served as the technical liaison for the construction of an $86M engineering development facility. Other technical and managerial responsibilities included experimental development of kinetics models for the permeation and diffusion of moisture and noxious gases through polymer systems, thin film development for advanced packages, and the creation of the first gigabit optoelectronic transceiver. Before joining IBM, Susko taught chemistry at Broome Technical College. Susko has over 30 publications, including two in the IBM Journal of Research and Development. He holds seven U.S. patents with another ten patents pending. Susko received his BS in chemistry from Elmira College.
As an ECS member, Susko has served the Society on numerous committees including Finance, Ways and Means, Publication, Education, Individual Membership, and the Board of Directors. Under his leadership, the Education ad hoc committee on student participation created the very successful Society Student Poster Session. As chair of the Individual Membership Committee, he led the effort that streamlined the membership application process, allowing for a nonmember meeting registration conversion option, which consistently retains 40% of these applicants as ECS members. He is currently teaching the resume writing and interviewing workshop, which is instrumental in assisting students and experienced professionals improve their employment options and success. Susko has been a member of the Society since 1984 and been active in Divisional leadership where he served as chair, vice-chair, treasurer and secretary for DS&T. He has organized a number of symposia including the well-received Metallized Plastics series. He has co-authored proceedings volumes and books on the subject.