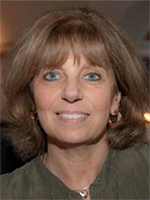 Deborah Jones has been dedicated to innovation in fuel cell and electrolyser materials for the past 20 years, introducing new concepts for fuel cell membrane compositions and architectures and contributed to understanding of membrane degradation mechanisms. Currently, she is the full senior researcher of the French National Scientific Research Council and the associate director of the Institute for Molecular Chemistry and Materials, where she has co-authored more than 200 international journal articles and 17 review articles and book chapters.
Jones has been involved in collaborative research across Europe for many years, initiating the European Coordination Action on Membrane Electrode Assemblies and the biennial international CARISMA conferences on materials for medium and high temperature polymer electrolyte fuel cells. She has led several large European collaborative efforts, and is currently member of the European Fuel Cells and Hydrogen Joint Undertaking Scientific Committee.
Additionally, Jones has served as senior editor of the journal Fuel Cells, co-edited volumes of ECS Transactions, and was the co-organizer of the 2015 ECS Conference on Electrochemical Energy Conversion & Storage with SOFC-XIV.