ECS President | 1928-1929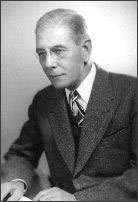 Paul John Kruesi was born in Menlo Park, New Jersey on February 3, 1878. He was the son of John Kruesi who managed Thomas Edison's Menlo Park research laboratory. He studied electrical engineering at Union College in New York City from 1896 to 1898. He received an honorary Doctor of Science degree from Union in 1935. In his work experience, he was involved extruded steatite insulation for radio tubes, lava insulation for electrical apparatus, and ferro silicon.
He worked in the Statistical Department at Chicago Edison Company from 1898 to 1899 and General Incandescent Arc Light Company, 1899-1902. He became Manager at American Lava Corp in 1902 and President in 1918. Paul Kruesi also became President and General Manager of the Southern Ferro Alloys Company, Director of the Hamilton Trust and Savings Bank, Trustee of the University of Tennessee, and Chattanooga Electro-Metals Co., Vice-President of the Tennessee River Milling Co. and the East Tennessee Iron and Coal Co. of Knoxville.
He was a very active member of the Society for many years. "He was largely responsible for the success of the Society's tour through the Appalachian South in 1918 and for the memorable meeting at Chattanooga in the fall of 1925". He was a Director of The Electrochemical Society for many years and served as President, 1928-1929. He was made an Honorary Member of the Society in 1944.