ECS President | 1948-1949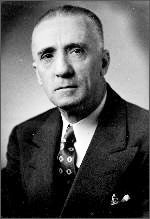 James Augustine Lee was born in New Iberia, Louisiana on August 7, 1894. He received a B.A. and a B.S. from Washington and Lee University in 1917. He attended Massachusetts Institute of Technology, 1917-1918 and Columbia University where he obtained an M.A. degree in 1925. He worked as Chemical Engineer and Foreman for Citizens Gas Company in 1920; Chemical Engineer with Western Electric from 1921-1925; and Bell Telephone Labs. 1926-1928. He was Managing Editor of "Chemical Engineering" for McGraw-Hill Publishing Co., 1929-1949, and then Head the News Bureau. His technical interests were in materials of construction, corrosion, plastics and synthetic resins.
Mr. Lee was active in The Electrochemical Society serving as Vice-President, 1941-43 and 1945-48, and President in the year 1948-1949. He was a Member of the Rubber Expedition to Brazil in 1943. A member of the Chemical Society, Technical Association of Pulp and Paper Industries, Plastic Pioneers Association, Society of Testing Materials, and Fellow of the Royal Society.