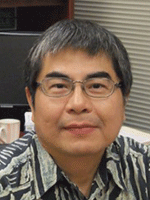 Bor Yann Liaw is the Manager of the Energy Storage and Advanced Vehicles Department at Idaho National Laboratory (INL). There, he oversees an R&D program on batteries and advanced vehicle evaluations. Prior to INL, Liaw held a position at the Hawaii Natural Energy Institute, where he focused on advanced power source systems for vehicle and energy storage applications.
Liaw has been in the field of electric and hybrid vehicle evaluation and advanced battery diagnostics and prognostics for the past three decades. His major research activities comprise laboratory and real-life battery and vehicle testing, data collection and analysis, battery modeling and simulation, battery performance and life prediction, battery rapid charging technology development, and battery diagnoses and prognoses.
Over the past two decades, Liaw has been involved in many professional organizations, including: ECS, International Society of Solid State Ionics, and the International Battery Association. He has co-authored more than 150 technical papers, seven book chapters, and eight patents and patent applications. He is currently the Associate Editor for the Journal of The Electrochemical Society.