ECS President | 1914-1915
ECS Treasurer | 1920-1924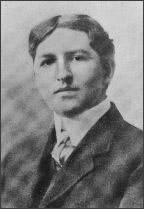 Frank Austin Lidbury was born in Middlewich, England on March 14, 1879. He attended Manchester University from 1895 to 1899 and obtained a Master of Science degree. He studied at London University, 1899 to 1900, and Physik-Chem. Institute, Leipzig, 1900 to 1901. He was a Demonstrator of Chemistry at Manchester from 1902 to 1903.
Mr. Lidbury came to the United States in 1903 and joined the Oldbury Electrochemical Company as Chemist. In 1905, he became Works Manager until 1922 when he was elected President of the Company.
He served as President of The Electrochemical Society in the year 1914-1915 at the age of 35. He was President of the Buffalo Engineering Society in 1917. Mr. Lidbury was a member of many other Societies: Chemical Society, Electrical Engineering, Mechanical Engineering, Minerals and Metals Engineering, Society of Chemical Industries, and Faraday Society.