ECS President | 1961-1962
ECS Secretary | 1949-1959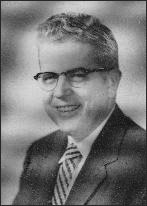 Henry B. Linford was born in Logan, Utah on April 23, 1911. He received his undergraduate education at Utah University and his graduate training at Washington State University, receiving a M.S. degree in 1933 and the Ph.D. degree in physical chemistry in 1936. In 1936, he was awarded the Society's Weston Fellowship and worked for a year under the direction of Dr. Colin G. Fink at Columbia University. He then worked as a research electrochemist for American Smelting & Refining Co. in New Jersey.
Dr. Linford joined the staff of Columbia University as an instructor in 1941. He became an assistant professor in 1946, an associate professor in 1949, and a professor in 1952. His research interests dealt principally with the field electrochemical engineering. He and his students published numerous articles on the preparation of metal surfaces for electroplating, on electroplating, and corrosion.
A member of The Electrochemical Society since 1936, Dr. Linford served as Chairman of the New York Section in 1942 and Chairman of the Electrodeposition Division in 1948. He served as Society Secretary from 1949 to 1958. He was elected Vice-President of the Society in 1958 and President in 1961. Dr. Linford was awarded the Edward Goodrich Acheson Medal and Prize in 1960. He was made an Honorary Member of The Electrochemical Society in 1974.
Dr. Linford conducted a Research Project for the American Electroplaters' Society on "Cleaning and Preparation of Metals for Electroplating". He was also a member of Alpha Chi Sigma, Phi Lambda Upsilon, Sigma Xi, the American Chemical Society, the American Institute of Chemical Engineers, the Chemists' Club, and was a Fellow of the New York Academy of Scientists.