ECS President | 1934-1935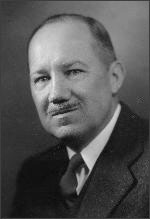 Hiram S. Lukens was born in Philadelphia on September 30, 1885. He obtained his B.S. degree in 1907 and Ph.D. in 1913 from the University of Pennsylvania. He served as Instructor in chemistry at the University of Pennsylvania from 1907 to 1913; as Assistant professor from 1913 to 1921; and as full Professor from 1921 to retirement in 1953. He served as Director of the Department of Chemistry and Chemical Engineering from 1932 to 1952. He also became Director of Research of Solidon Products, Inc. in 1924. For many years, Dr. Lukens was intimately associated with Dr. Edgar Fahs Smith. He published more than 30 scientific papers and obtained 23 patents principally in the electrochemistry field. His special areas of research were in electrochemistry and inorganic chemistry. Many of his papers appeared in the Transactions of the Society.
He was an active member of the Franklin Institute serving on many committees on science and the arts, the Philadelphia Institute of Consulting Chemists and Chemical Engineers, the Philadelphia Engineers' Club and other scientific societies. He was very active in the American Chemical Society, Chairman of the Philadelphia Section, 1924-25, Councilor of the National Society, 1926-27, Committee on Licensing Inquiry, 1939-44, and Trustee of Philadelphia Section, 1933-48.
Dr. Likens was a civilian appointee in Chemical Warfare Service during World War I. From 1934 to 1937, he was a member of the Division of Chemistry and Chemical Technology, National Research Council, During World War II, he was Chairman of the Committee on Flatware for Army Use, War Metallurgy Committee, Office of Scientific Research and Development.
Dr. Lukens became an active member of The Electrochemical Society in 1914. He was Secretary, 1930-31, and Chairman, 1931-32, of the Philadelphia Section and Chairman of the Electrodeposition Division, 1931-32. He served as Society Vice-President as well as its President, 1934-35. He was a member of the Executive Committee of the Society, 1934-39. He was Chairman of the Committee on Research Projects, 1949-50, and a member of the Ways and Means Committee, 1946-50.
Dr. Lukens was an Honorary Member of the American Electroplaters' Society.