ECS President | 1997-1998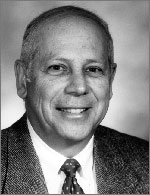 Barry Miller is the Frank Hovorka Professor of Chemistry at Case Western Reserve University. For three decades previous, he was a Member of the Technical Staff at Bell Laboratories (now part of Lucent Technologies) in various departments of physical science research. He received the A.B. degree summa cum laude in chemistry from Princeton University in 1955 and the Ph.D. in chemistry from M.I.T. in 1959, where he was a National Science Foundation Fellow and the last holder of the Merck Graduate Fellowship in Analytical Chemistry. After three years as an Instructor in Chemistry at Harvard University, he joined AT&T. He has published 130 papers and holds 19 U.S. patents.
Dr. Miller served as Editor of the Society's Journal for five-year term beginning January 1, 1990 after serving as a Divisional Editor for Physical Electrochemistry from 1974 to 1989 under Dr. Norman Hackerman. He relinquished the post at the completion of his term after being elected Vice-President of the Society in the interim. Previously within the Society, he served as Chair of the Physical Electrochemistry Division, as a member of the Board of Directors and the Long Range Planning and other committees, and as co-organizer of several symposia, including the first ones in the Society on fullerenes and on high temperature superconductors. In 1991, Dr. Miller received the David C. Grahame Award of the Physical Electrochemistry Division for research contributions in that field. In 1992 he was made an ECS Fellow.
Dr. Miller was President of the Society for Electroanalytical Chemistry (1989-1991) and Director (1986-1991). He received the Charles N. Reilley Award of SEAC for contributions to electroanalytical chemistry in 1994. He has also been Chairman of the Gordon Conference on Electrochemistry in 1985, U.S. National Secretary of the international Society of Electrochemistry (1989-1991), and Associate Member of the Electrochemistry Commission of IUPAC (1979-1987). Dr. Miller is a member of Phi Beta Kappa, Sigma Xi, and the American Chemical Society. In recent years, he has served on a number of Government Panels and Review Boards, including several for the Department of Energy.