ECS President | 1984-1985
ECS Secretary | 1974-1980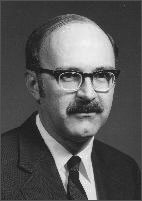 Paul Chambers Milner was born in Washington, D.C. on August 23, 1931. He received his B.S. in chemistry from Haverford College in 1952 and his M.S. and Ph.D. in physical chemistry from Princeton University in 1954 and 1956. He was a General Electric Co. Fellow at Princeton in 1954-1955.
After serving in the U.S. Navy, he joined Bell Laboratories as a Member of Technical Staff in 1957. He carried out studies on electrochemical kinetics, reaction mechanisms, and secondary batteries with particular reference to the lead-acid and nickel-cadmium systems. He became Department Head of Electrochemical Research in 1969 when his responsibility also included work in corrosion contamination studies, electrodeposition, metal finishes, electrical contacts, and lubrication. He retired from Bell Laboratories in 1987.
Dr. Milner became an active member of The Electrochemical Society in 1958. He was co-winner of the Francis Mills Turner Memorial Award in 1960 and served the Society in a number of functions. He was Co-Secretary of the Membership Committee (1960-1965), a member of the Executive Committee of the Theoretical (now Physical Electrochemistry) Division (1961-1963), a Battery Division Journal Editor (1962-1969), and Vice-Chairman (1966-1968) and Chairman (1968-1970) of the Battery Division. He served on the Nominating Committee twice, the Technical Affairs Committee, and as Technical Advisor to the Battery, Electrodeposition, and Industrial Electrolytic Divisions. In 1971, he was an Electrochemical Society Lecturer.
Dr. Milner was elected Secretary of the Society in 1974 and served two three year terms during which time he was a member of the Board of Directors, the Finance Committee, and the Publication Committee. He also was Chairman of the Society Meeting Committee. In 1980-1981, he served as Chairman of the Publication Committee. He was elected Vice-President of the Society in 1981 and served as President for the term 1984-1985. Subsequently, he served for two years on the Board of Directors and for several years on the Financial Policy Advisory Committee. He acted as Society Historian during the period 1990-1995 and was a member of a number of Ad Hoc Society Committees.
Dr. Milner was made an Honorary Member of the Society in 1986 and elected a Fellow of The Electrochemical Society in 1990. His other society memberships included the American Chemical Society, the International Society of Electrochemistry, Phi Beta Kappa, and Sigma Xi.