Recognizing Scientists Who Changed the World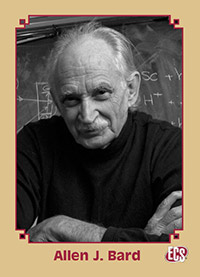 Pennington, NJ – (May 5, 2015) – The Electrochemical Society (ECS) is distributing its first set of electrochemical and solid state science themed trading cards at the 227th ECS Meeting in Chicago this May.
The Official ECS Major League Trading Cards feature some of the greatest scientists in ECS related domains—including battery, energy technology, fuel cells, sensors, electronics, and more. This inaugural run of 50 cards includes some of the biggest movers and shaker in the field, past and present.
"The scientists who have changed and are changing how we function in the world should be our heroes," says ECS executive director Roque Calvo. "They have a role in almost everything in our world today—from making your mobile phone work to battery powered cars to solar and wind powered cities to improving sanitation in countries with no toilets."
This series includes such notable scientific figures as Thomas Edison, Michael Faraday, Herbert Dow, and Robert Bunsen. You'll also find some of the most important living players in the game, such as Allen J. Bard—recognized as one of today's 50 most influential scientists, and Esther Takeuchi—a key contributor to the battery system that powers life-saving implantable cardiac defibrillators.
This is part of ECS's continued effort to raise awareness and improve the general public's understanding and appreciation of electrochemical and solid state sciences. Through these trading cards, ECS continues to fulfill its mission of disseminating knowledge in an open and accessible way.
About ECS
Leading the world in electrochemistry and solid-state science and technology for more than 112 years, The Electrochemical Society was founded in 1902 as an international nonprofit, educational organization. ECS now has more than 9,000 individual and institutional members in more than 75 countries. Home of the Journal of The Electrochemical Society—the oldest peer-reviewed journal in its field—ECS technical content is published in the ECS Digital Library, a searchable online collection of ECS technical journals and other publications.
Contact
The Electrochemical Society
Rob Gerth
Director of Marketing and Social Engagement
609-737-1902, Ext. 114
Rob.Gerth@electrochem.org