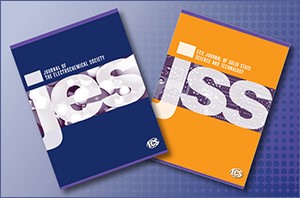 Call for Papers
Journal of The Electrochemical Society & ECS Journal of Solid State Science and Technology
Focus Issue on 2D Layered Materials: From Fundamental Science to Applications
This joint special collection of the Journal of The Electrochemical Society (JES) and ECS Journal of Solid State Science and Technology (JSS) will provide an open access forum for papers on the growth, characterization, processing, and device applications of two-dimensional (2D) materials. The ability to create and manipulate atomic- and molecular-layer thick materials is expected to transform materials science and derivative technology.
This collection focuses on the synthetic, chemical and physical characterization, functionalization, manipulation, metrology, and applications of 2D materials. Materials of interest are classical 2D materials such as graphene, boron nitride, transition metal dichalcogenides (TMDs), transition metal carbides, nitrides, or carbonitrides (MXenes) and emerging 2D materials such as borene, phosphorene, silicene, germanene, antimonene, and new 2D material discoveries. Papers and critical review articles reporting electrochemical and solid state science and technology of 2D materials, both experimental and theoretical, are welcomed including optical, electronic, optoelectronic, thermal, catalytic, and electrochemical applications, their composites, devices and technologies.
Papers addressing the electrochemical aspects (e.g., electrocatalysis, photoelectrochemistry) will be processed by Journal of the Electrochemical Society while those dealing with the solid state aspects will be handled by the ECS Journal of Solid State Science and Technology.
Accepting Submissions: February 13, 2020 | Submission Deadline EXTENDED: June 14, 2020
(At the time of submission, indicate that the paper is intended for the 2D Layered Materials focus issue.)
---
Guest Editors
Wolfram Jaegermann, Darmstadt University of Technology, Germany | jaegermann@surface.tu-darmstadt.de
Zia Karim, Yield Engineering Systems, U.S. | ZKarim@yieldengineering.com
Yaw Obeng, National Institute of Standards and Technology, U.S. | yaw.obeng@nist.gov
Colm O'Dwyer, University College Cork, Ireland | c.odwyer@ucc.ie

Journal of The Electrochemical Society

Technical Editor
David Cliffel, Vanderbilt University, U.S. | paeepeditor@vanderbilt.edu
Editor-in-Chief
Robert Savinell, Case Western Reserve University, U.S. | rfs2@case.edu
---
ECS Journal of Solid State Science and Technology

Technical Editor
Peter Mascher, McMaster University, Canada | mascher@mcmaster.ca
Editor-in-Chief
Krishnan Rajeshwar, University of Texas at Arlington, U.S. | rajeshwar@uta.edu
---
NEW FOR 2020: If selected at submission, accepted papers will be published online in the ECS Digital Library within 24 hours of final acceptance. The version of record will be published online within approximately 10 days of final acceptance.
All papers published in this focus issue will be OPEN ACCESS at NO COST to the authors. The issue will be created online as the articles are accepted, with the final article published by October 2020.