Call for Papers
ECS Journal of Solid State Science and Technology
Focus Issue on Solid-State Materials and Devices for Biological and Medical Applications II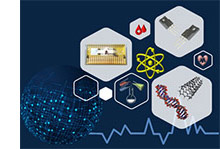 This focus issue of ECS Journal of Solid State Science and Technology aims to cover emerging solid-state materials and devices for fundamental biological study, for personal healthcare, for environmental monitoring, for food or water safety, and for disease diagnosis and therapy. A new class of solid-state materials and devices have shown great potential in the applications in biology and medicine, due to their unique electronic and photonic materials properties and miniaturized devices as well as the capability in industrial production. Topics of interest include, but are not limited, to the following:
Interaction between solid materials and biomolecules
Field-effect-transistors, triboelectric nanogenerators, impedance analysis, surface plasma resonance, surface-enhanced Raman spectroscopy, surface acoustic wave devices, and quartz crystal microbalance for biological detection
New methodology for chemical detection
Portable bioelectronic system for medical applications
Single cell detection and analysis
Integrated sensors and microfluidic devices
Nanopore and nano-slit bioelectronics
Bio-molecular devices for energy harvest
Semiconductor devices for DNA sequencing
Extracellular vesicles study
Electronic noses
Field-deployed devices for air and water monitoring
Electric stimulation for wound healing
Accepting Submissions: April 2, 2020 | Submission Deadline EXTENDED: July 1, 2020  August 16, 2020

(At the time of submission, indicate that the paper is intended for the Solid-State Materials and Devices focus issue.)
---
Guest Editors
Yu-Lin Wang, National Tsing Hua University, Taiwan | ylwang@mx.nthu.edu.tw
Zong-Hong Lin, National Tsing Hua University, Taiwan | linzh@mx.nthu.edu.tw
Wenzhuo Wu, Purdue University, U.S. | wu966@purdue.edu
Toshiya Sakata, University of Tokyo, Japan | sakata@biofet.t.u-tokyo.ac.jp
Chih-Tin Lin, National Taiwan University, Taiwan | timlin@ntu.edu.tw
Jung-Chih Chen, National Chiao Tung University, Taiwan | george@nctu.edu.tw
Jer-Chyi Wang, Chang Gung University, Taiwan | jcwang@mail.cgu.edu.tw
Kun-Mu Lee, Chang Gung University, Taiwan | kmlee@mail.cgu.edu.tw
Technical Editor
Fan Ren, University of Florida, U.S. | fren@che.ufl.edu
Editor-in-Chief
Krishnan Rajeshwar, The University of Texas at Arlington, U.S. | rajeshwar@uta.edu
---
NEW FOR 2020: If selected at submission, accepted papers are published online in the ECS Digital Library within 24 hours of scheduling for publication. The version of record is published online within approximately 10 days of final acceptance.
All papers published in this focus issue are OPEN ACCESS at NO COST to the authors. The focus issue is created online as the articles are accepted with the final article published by December 2020.