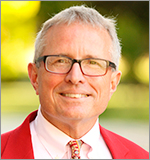 Robin D. Rogers is a research professor at The University of Alabama and president, owner, and founder of 525 Solutions, Inc., in Tuscaloosa, AL.
He obtained both his BS in chemistry and his PhD in chemistry from The University of Alabama. Rogers is the founding editor-in-chief of the American Chemical Society journal Crystal Growth & Design and is an advisory board member to eight other international peer-reviewed journals.
Rogers holds 27 issued patents and has published over 820 papers, with over 40,000 citations, a Hirsch index of 92, and an i10 index of 535.
Rogers was named in the 2014 and 2015 Thomson Reuters Highly Cited Researchers Lists ranking among the top 1% most cited in chemistry. His research interests cover the use of ionic liquids and Green Chemistry for sustainable technology through innovation. Most recently he has embarked on an effort to commercialize the use of biorenewable polymers such as chitin in an effort to eliminate the need for synthetic plastics.
He had an influential role in the expansion of interest and research in ILs, his initial paper on IL/aqueous partitioning (Chem. Comm. 1998, 1765) effectively kick-started interest in applying ILs to clean separations. He was awarded the U.S. Presidential Green Chemistry Challenge Award for work related to the use of ILs in sustainable technology.