ECS President | 1913-1914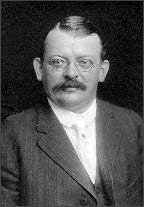 Dr. Eugene F. Roeber was a great influence on the development of the electrochemical profession in the United States. About the same time our Society was founded, a new journal, Electrochemical Industry, was established with Dr. E. F. Roeber as its first editor. He was famous for "his crisp and brilliant editorials interwoven with idealism and philosophy of the sounder kind". He held the position for fifteen years and was succeeded by Dr. H. C. Parmelee (Society President 1924-1925). In 1918, the journal name changed to Chemical and Metallurgical Engineering. In 1946 it changed to its present name Chemical Engineering.
For many years before and after he served as President of The Electrochemical Society, monthly Board of Directors meetings were held in his office at 239 West 39th Street in New York City. He was so well appreciated that Baekeland (Society President 1909-1910) collected funds to present Roeber with a silver loving cup as a token of esteem and friendship at the banquet before Roeber retired as President.