ECS President | 1922-1923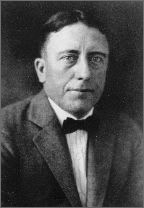 Carl George Schluederberg was born in Pittsburgh, PA on June 11, 1880. His father was general manager of the Pittsburgh Coal Company. Upon graduating from Cornell University with the degrees of M.E. (1902) and Ph.D. (1908), Dr. Schluederberg entered his father's employ. For a short time he was associated with the United States Steel Company, and in 1910 he joined the Engineering Department of the Westinghouse Electric and Manufacturing Company. He advanced rapidly to positions of trust and authority and, at the time of his resignation from the Company in 1935, he was manager of the plant at South Bend, Indiana and the Westinghouse Lighting Division at Cleveland, Ohio. In 1937, he became Vice-President and General Manager of the Ford Instrument Company, a subsidiary of the Sperry Corporation at Long Island City. He held that position until his death at the age of 57 on April 9, 1938.
Dr. Schluederberg was very interested in the arts, particularly music, and for many years served as treasurer of the Pittsburgh Orchestra Association where he made many friendships with great artists. He was also a sportsman and nature lover. He enjoyed fishing in the gulf of Mexico and hunting in the great Canadian woods.
Dr. Schluederberg was an active officer of The Electrochemical Society for many years and became its President in 1922. He was a member of many other scientific societies, American Chemical Society (past president of Cleveland Section), the American Institute of Electrical Engineers, the American Museum of Nature History, the National Electric Light Association, and the Hakluyt Society (London).