ECS President | 2005-2006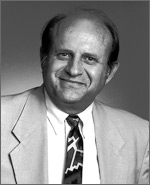 William H. Smyrl is Professor of Chemical Engineering and Materials Science at the University of Minnesota, a position he has held since 1983. He was Director of the Corrosion Center from 1987-1995. He received his B.S. from Texas Tech University and his Ph.D. from the University of California, Berkeley, and both degrees were in chemistry. He has taught at the University of California, San Francisco, in the School of Pharmacy; then went to the Boeing Scientific Research Laboratory as a Member of the Technical Staff; and then joined Sandia National Laboratory in Albuquerque, NM in 1971 as a Member of the Technical Staff. He has enjoyed participating in the Society while in each of these positions.
Professor Smyrl has been a member of The Electrochemical Society for over 30 years, and is a Fellow of the Society. He received the H. H. Uhlig Award of the Corrosion Division in 1995. During his membership in ECS, he has served on all positions of the executive board of the Corrosion Division, and was chair of the Division from 1990-1992. He has served as a member for several committees of this Division, including the H. H. Uhlig Award Committee and the Morris Cohen Graduate Student Award. He has served on the Technical Affairs Committee of the Society and as an Advisor to two Divisions, as a member of the Palladium Award Committee, as a member of the Education Committee, and as a Divisional Editor for the Journal of The Electrochemical Society. He has been an organizer and coorganizer of meetings symposia, and an editor of proceedings volumes for these symposia. He has been active in the Twin Cities Section where he has collaborated in teaching several short courses that were very successful. The most recent Section short course was in Applied Electrochemistry, taught jointly with Professor David Shores (University of Minnesota) and Professor Henry White (University of Utah).
Professor Smyrl chaired the Panel on Electrochemical Corrosion, convened by the National Materials Advisory Board in 1987, which issued a report entitled "Agenda for Advancing Electrochemical Corrosion Science and Technology." He chaired the Gordon Conference on Aqueous Corrosion in 1996. He was host and principal organizer for the 2nd International Conference on Conducting Polymers, held in Minneapolis in August 1999. Professor Smyrl has over 200 publications in journals and books. His research interests have been dominated by electrochemical engineering, corrosion science, microscopic imaging of reactive surfaces, and mathematical modeling. Recent interests have also included intercalation into oxide materials, high rate intercalation of lithium ions into porous aerogels and nanocomposites, and polymer electrolyte fuel cells.