ECS President | 1982-1983
ECS Treasurer | 1973-1976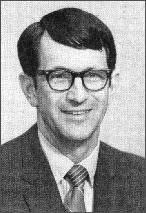 Fredrick John Strieter was born in Davenport, Iowa on September 14, 1934. He received an A.B. degree from Augustana College, Rock Island, Illinois in 1956. He entered the University of California, Berkeley and received his Ph.D. in Physical Chemistry in 1960 with thesis work in x-ray crystallography.
Dr. Strieter joined the Central Research Laboratories of Texas Instruments, Inc. in 1959 as a member of technical staff. His initial assignments were concerned with the preparation and characterization of semiconductor materials such as bismuth and lead tellurides for use in energy conversion devices. He then studied the characteristics of molten electrolyte fuel cells until he transferred to the Semiconductor Research and Development Laboratory of Texas Instruments in 1962. His responsibilities included process development for high frequency transistors and integrated circuits, and diffusion, photoresist, and oxide technology. He spent five years in several operating departments with both engineering and manufacturing operations reporting to him. In 1972, he returned to the Semiconductor Research and Development Laboratory as Manager of Microdefinition Technology with responsibility for electron beam patterning and other submicron geometry printing techniques. In April 1975, he became Manager of the Circuits Design and Development Pilot Line involving process development and manufacture of large, new bipolar and MOS integrated circuits for industrial and consumer applications. From 1977 to 1979, he was Manager of the Magnetic Bubble Memory Wafer Fabrication area, but then returned to the Pilot Line.
Dr. Strieter became a member of The Electrochemical Society in 1961 and was active in Section and Society affairs. He held offices of the North Texas Section. He was a member of the Publication Committee (1968-1974). He served as Treasurer of the Society from 1973 to 1976 and on several committees: Finance, Financial Advisory, Society Meeting, and Technical Affairs. He was elected Vice-President of the Society in 1979 and served as President for the term 1982-1983.
Dr. Strieter was active in community and educational programs serving on the Dallas Regional Science Fair Executive Committee. He was a member of the Board of Control of Concordia College, Austin, Texas in 1967 and served as Chairman from 1969 to 1975.
Dr. Strieter was also a member of IEEE, Sigma Xi, and Phi Beta Kappa.