ECS President | 2011-2012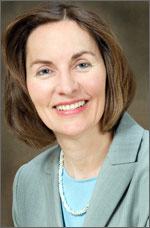 Esther S. Takeuchi is currently a distinguished professor at Stony Brook University and a chief scientist at Brookhaven National Laboratory. She previously held the rank of SUNY Distinguished Professor at the University at Buffalo SUNY in the Departments of Chemical and Biological Engineering, Electrical Engineering, and Chemistry. Her interests focus on materials, electrochemical power sources, and medical devices. She joined the University in 2007 after a 22-year career at Greatbatch, Inc., where she was involved in power source research and development. She was a key contributor to the lithium/SVO battery system that is used still to power the majority of life-saving implantable cardiac defibrillators. She received her bachelor's degree from the University of Pennsylvania with a double major in chemistry and history. She completed her Ph.D. at The Ohio State University in chemistry and subsequently conducted postdoctoral work at the University of North Carolina and at the State University of New York at Buffalo in electrochemistry. She is author of over 60 publications, editor or author of five books or book chapters, has delivered over 100 presentations, and is inventor on over 140 patents. She is active in several professional organizations including the American Chemical Society (ACS), the American Association for Medical Instrumentation (AAMI), and most notably ECS where she has been a member since 1984. Her activities with ECS have included Secretary, Treasurer, and then Chair of the Battery Division, and Chair of the Battery Division Research Award Committee. She has organized several symposia and edited their proceedings volumes. In addition, she has served on the Technical Affairs, Development, and Ways and Means committees of ECS.
Dr. Takeuchi's work has been honored by several organizations. These include the Jacob F. Schoellkopf Award given by the WNY American Chemical Society, the ECS Battery Division Technology Award (1995), and the Community Advisory Council of the State University of New York at Buffalo for outstanding achievement in science. Dr. Takeuchi was inducted into the WNY Women's Hall of Fame and she is a Fellow of the American Institute for Medical and Biological Engineering (AIMBE). In 2003, she was presented the Achievement in Healthcare Award by D'Youville College and received the Woman of Distinction Award presented by the Buffalo Branch of the American Association of University Women. In 2004, Dr. Takeuchi was elected a member of the National Academy of Engineering. She also received the Pioneers of Science Award, presented by Hauptman Woodward Medical Research Institute. USA Today noted in the December 13, 2005 issue, in an article by Kevin Maney, "You Really Can Find Identities of Top Patent Holders," she (Esther Takeuchi) is indeed the most prolific female inventor. In 2006, the Lincoln Gries Distinguished Alumni Award was presented by Old Trail School, Bath, Ohio, in recognition of outstanding alumni. In 2007, Dr. Takeuchi was recognized by a Lifetime Achievement Award presented by The Technical Societies Council and the Niagara Frontier Intellectual Property Law Association for contributions to advancement of science through intellectual property. She has been inducted into the Western New York Women's Hall of Fame, and in 2008, she was selected for an inaugural Astellas Foundation Award by the American Chemical Society for scientific work impacting public health. In 2009, Dr. Takeuchi was awarded the prestigious National Medal of Technology and Innovation by President Obama. Recently, she was the recipient of the 2010 Chancellor Charles P. Norton Medal, the highest honor conferred by the University at Buffalo.