ECS President | 1956-1957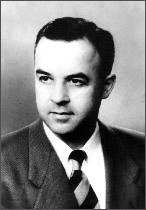 Hans Thurnauer was born in Nuremberg, Germany on June 11, 1908. He received an engineering degree in chemistry from The Charottenburg Institute of Technology, Germany in 1930 and a M.Sc. degree in ceramic engineering from the University of Illinois in 1931.
After returning to Europe, he worked as a ceramic engineer in German and British plants until he made his permanent residence in the U.S.A. in 1935. From 1935 to 1955 he was employed by American Lava Corporation, Chattanooga, Tenn., manufacturers of technical ceramics. In 1955 he became Head of the Inorganic Section of the Central Research Laboratory, Minnesota Mining and Manufacturing Company, St. Paul, Minn. Thurnauer served as a member of the Technical Industrial Intelligence Committee investigating ceramic plants in Germany after World War Two. He authored many papers on technical ceramics and received various patents in the field.
Thurnauer became a member of the Society in 1935. He Society interests in technical ceramics both for dielectric and high temperature applications. He served on the Finance and Perkin Medal Committee of the Society. He was elected Vice-President of the Society in 1953 and President in 1956.