ECS President | 1911-1912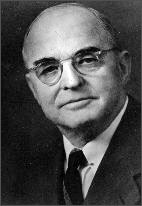 Willis Rodney Whitney was born in Jamestown, New York on August 22, 1868. He obtained a B.S. degree from the Massachusetts Institute of Technology in 1890 and a Ph.D. from the University of Leipzig in 1906. He received an honorary Doctor of chemistry from the University of Pittsburgh in 1919 and a Doctor of Science from Union College in 1919.
He was Assistant Instructor of Chemistry at M.I.T from 1890 to 1892; Instructor 1895 to 1900; Assistant Professor 1900 to 1904; Non-Resident Associate Professor of Theoretical Chemistry 1904 to 1908. He became Director of the General Electric Research laboratory in 1901. His research interests were on solubility, colloids, suspensions, corrosion of iron, and chromium sulfate compounds.
Dr. Whitney served The Electrochemical Society as President in 1911-1912. He was made an Honorary Member of the Society in 1944. He served as President of the Chemical Society in 1909. In 1916, he was awarded the Willard Gibbs Medal and in 1921, the Perkin Medal. He was the Chandler lecturer and Medalist in 1920; Associate Editor of the Journal of Industrial and Engineering Chemistry for many years; on the Advisory Committee to Bureau of Standards, member of National Research Council and Naval Consulting Board; a Director of the Albany Medical College; and on the Board of Governors of Union College.