241st ECS Meeting, May 31 @ 1200h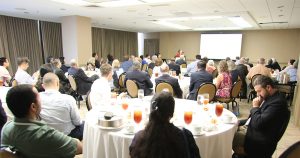 This year's Annual Society Business Meeting and Luncheon (ASBM) takes place at 1200h PDT, Tuesday, May 31, onsite at the 241st ECS Meeting in beautiful Vancouver, BC, Canada. Check the online program for the room location.
Attend the ASBM—happening in person for the first time since 2019—to enjoy a plated lunch with your ECS friends and colleagues. Hear the Society's senior leaders review 2021 successes and challenges, and plans for the coming year!
A ticket is required to attend the event. You can purchase your ticket online through your Events page on the ECS website or by visiting the Customer Service kiosk onsite.
The minutes from the 2021 ABSM meeting can be found here for review.