Deadline for Submitting Abstracts



May 1, 2015
Meeting Topics

Batteries and Energy Storage
Corrosion Science and Technology
Dielectric Science and Materials
Electrochemical/Electroless Deposition
Electrochemical Engineering
Electronic and Photonic Devices and Systems
Electronic Materials and Processing

Fuel Cells, Electrolyzers, and Energy Conversion
Luminescence and Display Materials, Devices, and Processing
Carbon Nanostructures and Devices
Physical and Analytical Electrochemistry, Electrocatalysis, and Photoelectrochemistry
Sensors
Did You Know?
Students who submit an abstract are automatically eligible to win at $250 student poster award.
Important Dates
---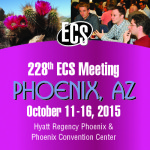 The 228th ECS Meeting will be held at the Phoenix Convention Center and the Hyatt Regency. Scientists, engineers, and industry leaders come from around the world to attend the technical symposia, poster sessions, panel discussions, professional development workshops, networking, and the Electrochemical Energy Summit.
Full papers presented at ECS meetings will be published in ECS Transactions.