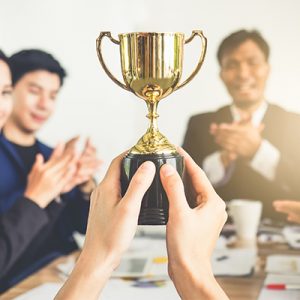 Students submitted 79 posters to the 240th ECS Meeting Z01 General Student Poster Session. Judges reviewed the digital presentations and chose the following for awards. Congratulations to the winners!
Please take a moment to celebrate the excellent work of the authors listed below.
Z01 – General Student Poster Session awards
1st Prize – $1,500 Cash
Sara Sheffels, Massachusetts Institute of Technology
Z01-1955 – "Proton Transport in Hydrated GdOx Measured with GdCo Magnetic Sensing Layer"

2nd Prize – $1,000 Cash
Andrew May, The City College of New York
Z01-1710 – "Comparison between Experimental Results and Models for Electrochemical Hydrogenation and Hydrogenolysis of Furfural on Cu in Acidic Media"
3rd Prize – $500 Cash
Xiujuan Chen, West Virginia University
Z01-1682 – "Electrochemical Activation to Unlock the Potential of Manganese Sulfide As High-Performance Cathodes for Rechargeable Aqueous Zn-Ion Batteries"
General Student Poster Session judges
Posters were judged by ECS members. ECS thanks the following individuals who served as judges for the 240th ECS Meeting Z01 General Student Poster Session:
Alice Suroviec, Berry College
Lok-Kun Tsui, University of New Mexico
Trisha Andrew, University of Massachusetts Amherst
Xiaolin Li, Pacific Northwest National Laboratory
Roseanne Warren, University of Utah
Hiroshi Imahori, Kyoto University
William Tarpeh, Stanford University
Gautam Banerjee, Micron Technology Inc.
Christopher Arges, Pennsylvania State University
Dmitrij Zagidulin, Western University
Andrew Hillier, Iowa State University
241st ECS Meeting Z01 General Student Poster Session
This poster session provides a forum for graduate and undergraduate students to present research results of general interest to the Society. The goal is to foster and promote work in electrochemistry and solid state science and technology, and stimulate active student interest and participation in ECS. Cash prizes for the top three overall posters are given to the presenting authors.
Abstracts are being accepted for the 241st ECS Meeting Z01 General Poster session through December 3, 2021. Consult the Call for Papers for more information. Be sure to submit your poster proposal!