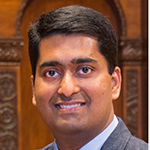 While at the 242nd ECS Meeting, meet Dr. Rohan Akolkar, an ECS Associate Editor for the Journal of The Electrochemical Society Electrochemical/Electroless Deposition topical interest area, at the "Meet the Editors" event at the ECS booth.  He can answer your questions on journal processes and discuss editorial opportunities and the vision for ECS Publications' growth—as well as his exciting research. 
SAVE THE DATE:
Tuesday, October 11, 1830-1930h EDT
Dr. Rohan Akolkar
Dr. Akolkar is the Milton and Tamar Maltz Professor of Energy Innovation at Case Western Reserve University (CWRU). He is an Ohio Eminent Scholar in Advanced Energy Research, serves as Faculty Director of CWRU's Great Lakes Energy Institute, and holds joint appointment as Chief Scientist at the Pacific Northwest National Laboratory. His research spans many areas of electrochemistry and electrochemical engineering: electrodeposition, electrometallurgy, and electrochemical materials development for applications in nano-electronics, batteries, sensors, and in extraction and refining of critical materials. Dr. Akolkar has received awards including the ECS Norman Hackerman Young Author Award, and was recently elected as Senior Member of the National Academy of Inventors (NAI). He serves as Associate Editor of the Journal of the Electrochemical Society, and is a Member at Large of the ECS Electrodeposition Division. Prior to joining the CWRU faculty in 2012, he conducted R&D at Components Research Division of Intel Corporation.