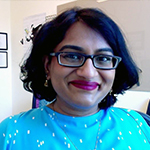 Meet Professor Trisha L. Andrew at the 242nd ECS Meeting "Meet the Editors" event. Dr. Andrews is an Associate Professor of Chemistry and Chemical Engineering at the University of Massachusetts Amherst. She directs the Wearable Electronics Lab, a multi-disciplinary research team that creates electronic devices on unconventional substrates, such as textiles and living plants, using chemical vapor deposition of soft electronic materials and polymers. Dr. Andrews received her PhD at the Massachusetts Institute of Technology in 2011, and then started her career as an Assistant Professor of Chemistry and Electrical Engineering at the University of Wisconsin-Madison.  Her unconventional training in the disparate fields of synthetic organic chemistry and microelectronic device fabrication inform her unique problem-solving skills and varied research interests. She is a David and Lucille Packard Foundation Fellow, National Academy of Sciences Kavli Fellow, Air Force Office of Scientific Research Young Investigator, L'Oréal USA For Women in Science Fellow, 3M Nontenured Faculty Award winner, and was named as one Forbes "30 Under 30" Innovators in Energy.
SAVE THE DATE: Wednesday, October 12, 1830-1930h EDT
Connect with esteemed ECS journal editors at the 242nd ECS Meeting booth. Professor Trisha L. Andrew is an Associate Editor in the Topic Interest Area of Sensors for ECS Sensors. She can answer your questions on journal processes and discuss editorial opportunities and the vision for ECS Publications' growth—as well as her fascinating research.