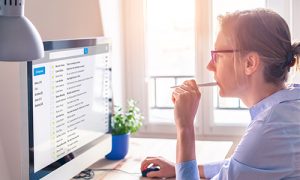 Are your incoming ECS emails being triggered by Junk mail filters? If you've seen a drop in ECS emails or aren't receiving your subscribed ECS email content, this may be the case.
Here are some tips to prevent this from happening.
Outlook
Check your Junk folder:
Go to Junk Email
Right-click on any email
Select Junk > Junk Email Options…
Click on the Safe Senders tab, Add @electrochem.org
Click Apply > Ok
Still not working? Here is a list of other options you may try as well.
Gmail
Open Google Mail and click Settings > Filters > Create a new filter
Enter the email address in the From field
Click Create filter with this search
Select Never send it to spam
Click Create Filter
Click here for more options.
Yahoo
Select the Spam folder
Select the email that was wrongfully sent to junk mail
Click Not Spam
Update your communication preferences
While you're at it, update your "Communication Preferences" in your ECS profile. Once you log on:
Select My Communication Preferences under My Account Links, on the right-hand side
Check off all the email content you're interested in receiving!