An article by ECS Fellow Yue Kuo.
ECS and SEMI are pleased to announce that the annual China Semiconductor Technology International Conference (CSTIC 2015) successfully concluded on March 16th in Shanghai, China with about 311 speakers and 606 attendees from around the world.
This marks the 16th year that CSTIC held this annual international conference. (ECS is a founding sponsor of the event.) With a focus on semiconductor technology and manufacturing, CSTIC promoted technical exchanges on the latest developments in semiconductor technology and manufacturing and facilitated investment and collaboration in the semiconductor industry in Asia, particularly China.
CSTIC 2015 covered all aspects of semiconductor technology and manufacturing, including circuit design, devices, lithography, integration, materials, processes, and manufacturing, as well as emerging semiconductor technologies and silicon material applications. Hot topics, such as 3D integration, LEDs, and MEMs, were also included in the conference.
Prof. Xi Wang of Shanghai Institute of Microsystem and Information Technology of China Academy of Science, Dr. Seok-Hee Lee of SK Hynix, and Mr. Rudi Cartuyvels of IMEC delivered the keynote speeches at the conference. Over 141 leading experts in semiconductor technology presented keynote and invited talks in the symposia.
CSTIC 2015 was organized by SEMI and co-organized by ECS and China's High-Tech Expert Committee (CHTEC), and co-sponsored by IEEE-EDS, MRS and the China Electronics Materials Industry Association. Several industry companies provided financial support for this industrial semiconductor technology conference. Additional sponsors included: JCET Changjiang Electronics Technology Co. Ltd., Henkel, SMIC (Semiconductor Manufacturing International Corporation), Tokyo Electron Limited, Applied Materials Inc., ANJI, ASE Group, Inc., ADVANTEST, NMC North Microelectronics Co. Ltd., ASM, Edwards, ULVAC, and Finnegan.
About 217 CSTIC 2015 papers were published in IEEE Xplore.
CSTIC Chair and ECS Fellow Cor Claeys opened the meeting on March 15th at the Shanghai International Conference Center. I gave welcome remarks and an introduction to ECS at the plenary session.
The ECS Best Student Paper Award winners were Xiaofei Wu of University of Hong Kong (1st), Jin Jisong of Tokyo Institute of Technology (2nd), and Yanfen Xiao of University of Freiburg (3rd).
CSTIC 2016 is scheduled to be held March 2016 in Shanghai, China.
---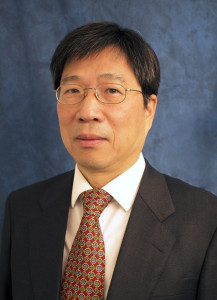 Yue Kuo, ECS Fellow and technical editor of the ECS Journal of Solid State Science and Technology (JSS), will receive the ECS Gordon E. Moore Medal for Outstanding Achievement in Solid State Science and Technology for his innovative work in interdisciplinary nano and microelectronics. The award will be presented at the ECS 227th Meeting this May. Read his meeting abstract.