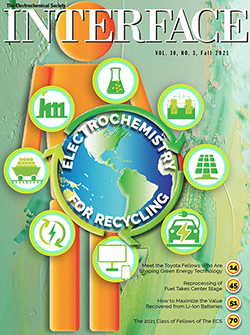 The ECS Interface fall 2021 issue is now available to read online. This issue, on Electrochemistry for Recycling, is guest edited by Xiao Su, University of Illinois Urbana-Champaign; Zheng Chen, University of California, San Diego; Jean St-Pierre, University of Hawaii; and Natasa Vasiljevic, University of Bristol. Rob Kelly, Interface's Editor, invites you to enjoy our special features and news.
Special Features
Electrochemistry for Recycling
by Xiao Su, Zheng Chen, Jean St-Pierre, Natasa Vasiljevic
The Future of Nuclear Energy: Electrochemical Reprocessing of Fuel Takes Center Stage
by Bethany Kersten, Krista Hawthorne, Mark Williamson, Rohan Akolkar, Christine E. Duval
How to Maximize the Value Recovered from Li-Ion Batteries: Hydrometallurgical or Direct Recycling?
by Linda Gaines, Yan Wang
Circular Economy of Polymers – Electrochemical Recycling and Upcycling
by Chockkalingam Karuppaiah, Natasa Vasiljevic, Zheng Chen
Celebrating 100 Years of the High-Temperature Energy, Materials, & Processes (H-TEMP) Division
by Gregory S. Jackson
Technical Articles
The Chalkboard: Stretching Cyclic Voltammetry to Its Potential Limit
by Jean St-Pierre
Looking at Patent Law: Patenting an Electrochemical Invention for Recycling Electronic Waste – A Case Study
by E. Jennings Taylor and Maria Inman
Tech Highlights
by Joshua Gallaway, David McNulty, Chao (Gilbert) Liu, Zenghe Liu, Chock Karuppaiah, Donald Pile
Issue Highlights 
The 2021 Class of Fellows of the ECS
Award Winners
Call for Papers: 241st ECS Meeting, Vancouver, BC, Canada
Community News: Society News, People News, Section News, Student News
A special shout out to our Fall 2021 advertisers: don't miss their recent offerings!
Please enjoy the full issue of Interface here.