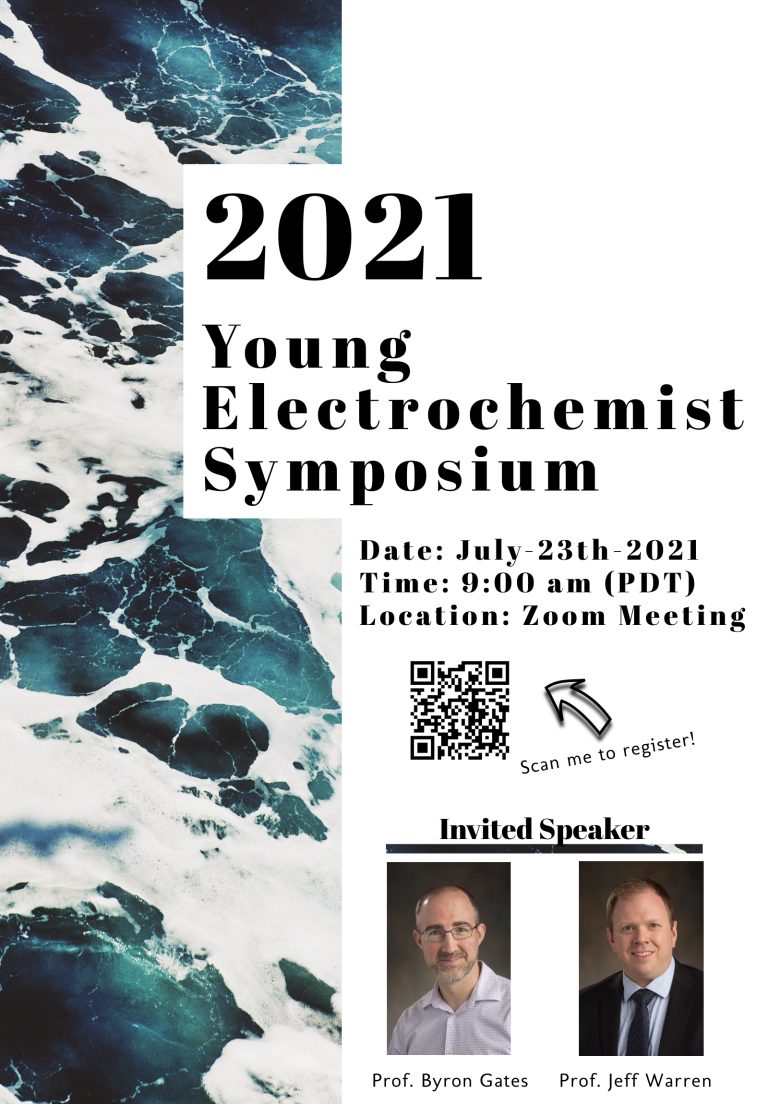 Byron Gates and Jeff Warren lecture on July 23, 2021
The ECS British Columbia Student Chapter invites students, post-docs, professors, and anyone interested in electrochemistry, materials, or renewable energy, to our 10th Annual Young Electrochemists Symposium. This milestone meeting is online via Zoom due to the unprecedented nature of COVID-19. Hopefully, this is the last online meeting before we gather in person again. 
We hope to see you soon at our symposium,
ECS British Columbia Student Chapter
Hosted by the ECS British Columbia Student Chapter
Friday, July 23, 2021
0900h PT
Via Zoom 
Invited speakers
Dr. Byron Gates
Professor
Canada Research Chair, Tier II in Surface Chemistry (2005-2014)
Head, Centre for Soft Materials in 4D LABS
Simon Fraser University
Dr. Jeffrey J. Warren
Associate Professor
Simon Fraser University
Graduate student 3-minute thesis competition
1st prize: $100 gift card of your choice
2nd prize: $50 gift card of your choice
3rd Prize: $25 gift card of your choice
Audience choice: $25 gift card of your choice
Competition guidelines and submission
Symposium registration
Free and open to the public
ECS membership is not required
Benefits of attending the symposium
Network with chemists across Canada and around the world;
Discuss research;
Form collaborations.
ECS Student Chapters
ECS Student Chapters provide graduate and undergraduate students with opportunities to promote electrochemical and solid state science and technology and foster a greater understanding among their peers; enhance professional development; and enrich their academic experience. The many benefits of student chapter membership include engaging with fellow students and peers; organizing technical meeting programs and scholarly activities; access to career resources; resume-building activities; collaborating with other chapters; and recognition in the ECS membership journal, Interface.
 Interested in joining an ECS Student Chapter? Consult the ECS Student Chapter Directory to see if there is a chapter near you. Check the guidelines in order to form an ECS Student Chapter.