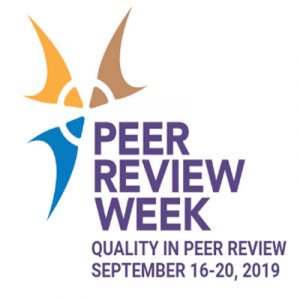 Peer Review Week 2018 is still going strong, and ECS is celebrating by highlighting insights on peer review from some of the most-qualified authorities on the subject—ECS journal editors.
The opinions shared below are those of technical and associate editors of ECS journals. The majority of these comments were originally published in Interface or on the ECS Redcat Blog within recent years.
Learn more about ECS journals and their editorial boards: Journal of The Electrochemical Society | ECS Journal of Solid State Science and Technology.
Join the celebration! There's still time to participate in the week's events and join the global conversation about peer review by tweeting @PeerRevWeek and following #PeerReviewWeek18 and #PeerRevDiversityInclusion.
Diversity in peer review
Jennifer Bardwell: I've been an associate editor and technical editor for a total of 14 years. One thing that I feel very strongly about is seeking out the best person to review a paper based on the person's publication record, and not whether they are a Society insider, member, or an acquaintance of the editor. This has led me to add a large number of people to the reviewer database, and when I do so, I take particular satisfaction if the person is from a country underrepresented in our membership. And we do have many countries which are not well represented in our database. So, geographic and/or ethnic diversity is important to me. For other diversities, such as disabilities, sexual orientation, and gender, we often are blind to this, due to the remote nature of the online submission and review system. Many times I am grateful that the greeting "Dear Dr. Blank" is, fortunately, gender neutral.
The role of peer review
Charles Hussey: There is so much to say about this that I hardly know where to begin. To have scientific manuscripts evaluated before publication anonymously by impartial experts in the field is an essential tool to check for quality and to help ensure the integrity of scientific results reported to the world. It goes a long way toward preventing the publication of fallacious results and eliminating duplicate submissions. Sadly (and rarely), authors do submit their work to two journals simultaneously or try to republish data. We count on our expert reviewers to catch these problems. Unfortunately, as we editors all know, the peer review process does not completely eliminate these problems, but it is the best tool we can imagine. Read more.
Ajit Khosla: The peer review process is integral to scholarly research. Scientific findings and discoveries can have far-reaching implications for individuals and society. This is one reason why they undergo a process of quality control known as peer review before they are published. It is a process of subjecting research methods and findings to the scrutiny of others who are experts in the same field. The peer review process is designed to prevent dissemination of irrelevant findings, unacceptable interpretations, and unwarranted claims. Furthermore, it adds to the large dialogue or findings in the field. Read more.
Janine Mauzeroll: Peer review is based on the idea that if your work is scientifically sound and has merit, unbiased colleagues will recognize this. It's the final step in a long process of validation that started when you decided to check with your lab-mate if your calculations were correct, when your colleagues proofread your draft, when the editor perused your paper and decided to send it out for review, and when the referees delved into the work to provide you with comments to put forth the best possible paper. Peer review in ECS journals provides quality control ensuring that if you invest the time and resources to further your research with an ECS paper, you won't be wasting eight months of your student's time. Read more.
The value of peer review
Stephen Maldonado: Without peer review, there is no value in scientific reporting. Vetting and reviewing are essential to legitimize the findings. It doesn't mean that the interpretations are right or that a given study is without flaw, but it does mean that the work has passed some basic level of scrutiny. Without peer review, the distinction between objective findings and subjective messaging becomes indistinguishable. Read more.
Minhua Shao: Peer review is an irreplaceable process in scholarly publishing. It minimizes the possibility of reporting wrong results, misinterpretations, and unsupported claims. It is also a powerful tool to control the quality of a journal. Read more.
Alice Suroviec: The peer review process is critical to the process of disseminating scientific work. The sciences are by nature a team process. In the lab, we work with other team members to produce novel research. The peer review process is an extension of that, where other experts in the author's area weigh in to produce the best paper possible. Peer review in JES also provides a quality control so the readers of the journal know that they are reading reputable results. Read more.
Peer review and ECS
Want to learn more about peer review, its history, and the way it works at ECS? Check out this recent report on peer review and manuscript lagtime, written by Dennis Hess, editor of the ECS Journal of Solid State Science and Technology, and Robert Savinell, editor of the Journal of The Electrochemical Society, or browse ECS's past posts about peer review.
Interested in becoming a peer reviewer for ECS? Contact publications@electrochem.org to learn how.