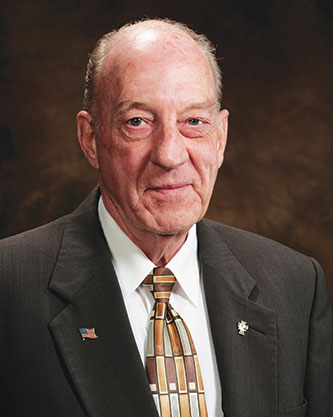 William (Bill) David Brown, age 73, passed away on Thursday, March 30, 2017 in Fayetteville, AR.
As an advocate of education, Brown spent many years working as a professor. He started his career in academia at the University of New Mexico (1975-1977), followed by the University of Arkansas (1977-2008), where he served as Distinguished Professor, Head of the Electrical Engineering Department, and Associate Dean for Research in the College of Engineering.
Brown joined The Electrochemical Society in 1983. Throughout his life, he dedicated himself to ECS, serving as the Society's president (2010-2011), vice president (2007-2010), and treasurer (1998-2000). Additionally, he served as the secretary, vice chair, and chair of the ECS Dielectric Science and Technology Division; and chaired the Society's Education Committee (1994-2002), where he was instrumental in the initiation of the highly successful Student Poster Session held at each ECS meeting.
"Bill Brown was one of the Society's finest leaders and a great teacher and mentor to me, and to many scientists and engineers in his field," says Roque Calvo, ECS executive director. "He held an incredible number of top leadership positions in ECS but his work involving the Society's Centennial and Free the Science fundraising campaigns could be his most notable contributions. He will be remembered for his contributions to our science and technology but more so for the character, integrity, and camaraderie that he brought to the Society."
Brown also served on ECS's Technical Affairs Committed (2007-2009), Ways and Means Committee (2007-2010), Finance Committee (1998-2002), Financial Policy Advisory Committee (1998-2007), and the Audit Subcommittee (2006-2007).
Brown's involvement in the Society touched nearly every aspect of ECS's programs. His work with ECS extended into the Society Meeting Committee (1998-2002), Honors and Awards Subcommittee for the Henry B. Linford Award (1994-1997), Fellows Selection Subcommittee of the Honors and Awards Committee (2003-2010), Search Committee for the Editor of Electrochemical and Solid-State Letters (2002-2004), Nominating Committee (2005-2008), Individual Membership Committee (2007-2008), Corporate Sponsorship Committee (2009-2012), Development Committee (2004-2009), Ad Hoc Gift Acceptance Committee (2001-2009), and the Solicitation Subcommittee of the Corporate Sponsorship Committee (2009-2012).
While serving in these positions, Brown had been an ardent supporter of the Society's efforts to disseminate technical information and expand the Society's international activities. As a Society member, he co-organized 28 symposia, including the well-regarded Silicon Nitride and Silicon Dioxide Thin Insulating Films, Low Temperature Electronics and High Temperature Superconductivity, Diamond Materials, and the III-V Nitride series. He contributed a substantial number of papers to the Journal of The Electrochemical Society and ECS proceedings volumes.