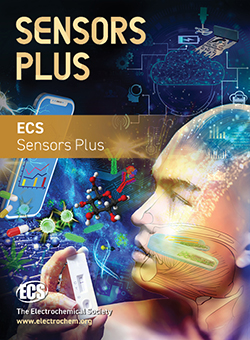 As ECS closes out March 2023, we celebrate four full issues of ECS Sensors Plus, the first 2023 issue on its way, and over 1,000 citations of content published in the journal to date!
ECS Sensors Plus, launched in January 2022, is the home for all content related to sensor technology. The journal leads and promotes scholarly communication and interactions among scientists, engineers, and technologists whose primary interests focus on materials, structures, properties, performance, and characterization of sensing and detection devices, methods, and systems, including sensor arrays and networks.
In the spirit of maintaining ECS's standard of excellence and quality scholarly publications, all papers submitted to ECS Sensors Plus are rigorously peer reviewed before acceptance.
ECS Sensors Plus Editorial Board members are leaders in the field, vetted by the Editor-in-Chief, and lead committees of the Society, an organization with a 120+ year legacy of excellence.
Enabling open access to scientific research is imperative to ECS's mission to disseminate the best research in our technical fields as widely as possible. Therefore, all article processing charges for ECS Sensors Plus are waived through December 31, 2023, and all content published in the journal is free to read!
Activate with ECS Publications; support the success of our family of journals; and help us continue our mission to advance science!
*Sensors Plus celebratory cover art image courtesy of Itthipon Jeerapan, Prince of Songkla University, Thailand.