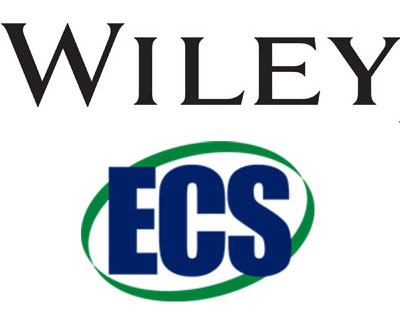 The Electrochemical Society and Wiley have renewed a publishing partnership to enhance ECS's book series with the goal of publishing multiple titles per year. ECS's long-time sponsored series in publishing cooperation with Wiley provides authoritative, detailed accounts on specific topics in electrochemistry and solid state science and technology. Through this partnership, the Society is able to offer the research community access to world-class editors, marketers, and product designers to ensure that from writing the first word to reaching the first reader, the ECS community has a robust support network of publishing professionals to help an author develop and publish their best work.
By choosing to publish with ECS, authors become part of a collection of some of the most trusted resources in electrochemistry and solid state science and technology. ECS's network of over 8,000 members worldwide, coupled with Wiley's more than 200 years of expertise in delivering high-quality content to global markets, uniquely positions ECS to ensure that authors' works reach the widest possible audience.
"We are thrilled to build upon a publishing partnership that has been in existence since the early 1990s," said Beth Craanen, ECS Director of Publications. "Our community includes world-renowned researchers, scientists and engineers, Nobel laureates, and the future generation of our science, who are advancing the solutions to some of the world's most critical challenges in renewable energy, transportation, health care, and more."
 "We are delighted to renew our partnership with ECS and look forward to expanding and strengthening the book series," said Sarah Higginbotham, Senior Commissioning Editor at Wiley. "Together we will continue to grow ECS's book publishing, with the shared objective of supporting the education and training of students, scientists, and engineers working in electrochemical and solid state science and technology, and related fields."
Authors interested in publishing with the Society can visit the ECS website at www.electrochem.org/books to learn more about the book publishing process, information on preparing a proposal, and helpful advice on how to get your book published. 
For more information, email publications@electrochem.org.