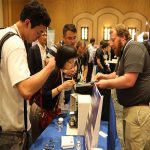 The exhibit floor for the upcoming fall ECS meeting is filling up quickly! Don't miss the chance to exhibit at our 236th ECS Meeting in Atlanta, GA.
Our fall meeting will focus on long running symposia, new topics, and honoring a number of trailblazers in the field. This is a can't miss event for electrochemists and solid state scientists, featuring symposia in the following areas:
In Honor of Bob Huggins: Fast Ionic Conductors
Polymer Electrolyte Fuel Cells & Electrolyzers 19
16th International Symposium on Semiconductor Cleaning Science and Technology
Photovoltaics for the 21st Century: New Materials and Processes
Photocatalysts, Photoelectrochemical Cells, and Solar Fuels
Reduction of CO2: From Laboratory to Industrial Scale
Crosscutting Materials Innovation for Transformational Chemical and Electrochemical Energy Conversion Technologies
Materials and Processes for Semiconductor, 2.5 and 3D Chip Packaging, and High Density Interconnection PCB
State-of-the-Art Program on Compound Semiconductors (SOTAPOCS 62)
Sonoelectrochemistry
The Brain and Electrochemistry
40 Years After: Celebrating ECS's First Female President
Electrochemistry in Space
28 Years of Electrochemistry within ECS Georgia Section
Our exhibit floor still has booths. Don't miss this chance for your organization to engage with our engineers and scientists!
ECS also offers a wide range of sponsorship options to help get your brand in front of our meeting attendees! Book your sponsorship by Friday, August 2 to ensure you receive maximum exposure.