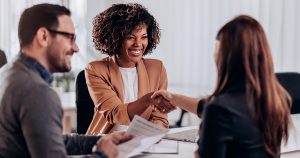 The ECS Career Center connects talent with opportunity! Search job listings; connect with employers; polish your resume; learn about the kaleidoscope of career paths available to you; and explore the next steps toward your personal career goals—all from a single dashboard. To stand out from the crowd, take advantage of the tools the ECS Career Center offers.
Career resources
Job postings
New job postings come in on a rolling basis. Check frequently to stay on top of incoming jobs or set up alerts to hear automatically about new job listings that match your goals and interests!
Resume bank
The ECS Career Center's Resume Bank feature allows employers to search resumes in the bank and target candidates matching the criteria they seek. Employers using the ECS Career Center are pre-qualified to offer careers relevant to your industry and expertise. Use the Upload Your Resume Feature to let employers find you!
Ask the experts
The ECS Career Center enables you to connect easily with experts offering invaluable job search insights and ideas. Improve your resume via a free resume review with an expert from TopResume; read featured articles with job search tips and tricks; and learn how to ace job interviews, tackle salary negotiations, and stand out from the crowd. Need a guide? Set up a session with an expert Career Coach to talk through your career goals.
Career planning
Use the Career Planning tool to explore the skills and training to set yourself up for success on the road to your dream career. Here you can review projected growth and wage reports for specific occupations; learn the daily tasks associated with specific roles; and compare salary information across locations.  
To access thousands of job opportunities, connect with top employers, and take a deep dive into career insights and your personal career goals, visit the ECS Career Center today!