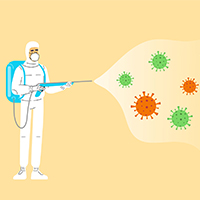 When it comes to protecting ourselves against COVID-19, innovation is at its peak! Countless YouTube videos and DIY sites have surfaced teaching viewers how to create their own homemade masks, cleaning solutions, replicas of sold-out Clorox wipes, and more, all from the safety of home.
According to the Waco Tribune-Herald, Waco firefighters have also whipped up their own original concoction of salt, water, vinegar, and a jolt of electrochemical activation for the creation of their very own safe, yet powerful, disinfectant. Their homemade formula for hypochlorous acid, paired with their homemade spray system, allows the firefighters to kill viruses on their gear and within their living quarters in just 60 seconds.
Waco fire Lt. Philip Burnett, who works at Station No. 11, says the electricity from the electrochemical activation basically "cooks" the homemade disinfectant giving it a 10 times higher kill-rate than bleach.
"For lack of a better term, we are the science nerds at Station 11, you know the hazmat crew. Because there is a lot of chemistry that goes into working hazmat calls, we knew we could do something during this time," said Burnett. With a little bit of research, some tests, and trial and error, the crew was able to get it down pat.
"This process really puts them at ease, because if they are going on a call where there is a risk of exposure, they know we have the capability of deconning things, including themselves, on things we have to do on a daily basis," said Waco Fire Chief Gregory Summers.