Special issue focuses on Diversity in Science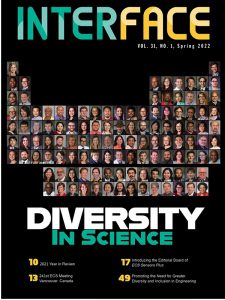 The ECS Interface spring 2022 issue is now available to read online. The issue on diversity in science is guest edited by Dr. Alice Suroviec, Dean of the School of Mathematics and Natural Science at Berry College
As always, Interface Editor Rob Kelly invites you to enjoy the issue's special features and news.
Special Features
Addressing Diversity, Equity, and Inclusion Across Disciplines
by Alice H. Suroviec 
Diversity, Equality, and Inclusion in Our Professions: A Thin and Leaky Pipeline
by Christina Bock
Equality and Diversity in (Electrochemical) Sciences – 30 Years of Observations
by Sannakaisa Virtanen
Promoting the Need for Greater Diversity and Inclusion in Engineering
by Roberta Rincon
The Role of Professional Societies in Advancing Inclusion in Chemistry: Through the Lens of the American Chemical Society
By Natalie LaFranzo
Diversity Unlocks Creativity and Innovation
by Simona Badilescu and Muthukumaran Packirisamy
Technical Articles
Tech Highlights
by Joshua Gallaway, David McNulty, Chao (Gilbert) Liu, Zenghe Liu, Chock Karuppaiah, Donald Pile
Issue Highlights 
2021 Year in Review
Toyota Fellowships: Fellowships Target Clean-Energy Innovation
241st ECS Meeting Vancouver, BC, Canada May 29-June 2, 2022
A special shout out to our spring 2022 advertisers: don't miss their recent offerings.

Please enjoy the full issue of Interface here.