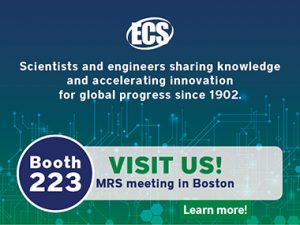 Join The Electrochemical Society on November 25-30, 2018 at the 2018 MRS Fall Meeting & Exhibit in Boston, MA.
The MRS meeting is a great opportunity for ECS to connect with our members and other interested scientists, researchers, and academics to discuss what's new and exciting in the field and with ECS. This meeting allows for the exchange of technical information around materials science and the ability to network with an interdisciplinary and international audience. The annual Fall Meeting takes place at the Boston's Hynes Convention Center and Sheraton Boston Hotel, features over 50 symposia, and is attended by as many as 6,000 researchers from every corner of the globe.
The ECS team is a proud exhibitor at this year's 2018 MRS Fall Meeting & Exhibit. Don't forget to stop by and say hello to the ECS staff at booth #223! ECS will be exhibiting Tuesday and Wednesday from 1100-1730h and Thursday 1000-1330h. Learn about our member programs, the ECSarXiv preprint service, ECS publications, corporate programs, upcoming ECS meetings, and pick up some ECS giveaways!