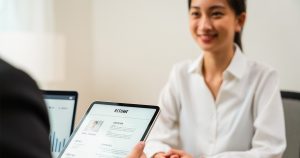 Job searching doesn't have to be time consuming. With the right resources, you can save time and increase your exposure to leading employers who are eager to hire.
The ECS Career Center allows employers to search for potential candidates and view their resumes while protecting the job seeker's privacy. Your contact information is only provided to those you allow, eliminating the chances of receiving unsolicited emails and phone calls.
Update your CV/Resume today
Here's how it works:
Employer browses through the job board resume bank.
Employer shows interest in a job seeker.
Employer completes a contact form request.
The job seeker is notified.
The job seeker either accepts or declines the request.

DECLINED: You remain anonymous.
ACCEPTED: Your contact information is shared with the employer.

Get ready for your interview.
Take the next step in your career journey with the ECS Career Center today!