Sponsor and exhibit deadline is Friday, February 28!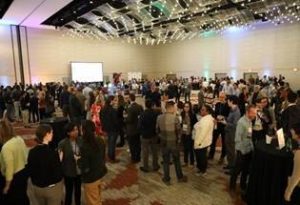 Time is running out! Purchase your exhibit booth or be a sponsor for the 237th ECS Meeting with the 18th International Meeting on Chemical Sensors (IMCS 2020) which takes place in Montréal, Canada from May 10-14, 2020. Our Montréal meeting is the perfect opportunity to spotlight your products and services in front of over 2,900 leading electrochemical and solid state science engineers and scientists. Don't wait!
Our exhibit floor is almost completely sold out!
Don't miss the chance for your organization to engage with our researchers!
ECS also offers a wide range of sponsorship options to help get your brand in front of our meeting attendees! Book your sponsorship by Friday, February 28, 2020, to ensure you receive maximum
exposure in Montréal.
Sponsorships include:
General meeting sponsorship
Want your organization to stand out? Let's work together to create the perfect package.
Brand exposure on the meeting program, meeting app, website, and signage.
Symposium sponsorship – defray travel expenses for young scientists attending the meeting
Brand exposure on the meeting program, website, signage and during your specific symposium.
Funds directly support the scientists who make the meeting possible.
Return applications by Friday, February 28, 2020
Custom packages are available!
Contact us! We are willing to work within your budget.
If your organization is interested in exhibiting or sponsoring, please feel free to email us.
Thank you for your consideration and I hope to see with you in Montréal!