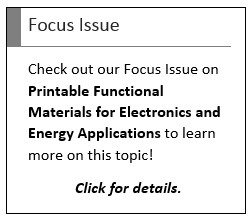 Logan Streu, ECS Content Associate & Assistant to the CCO, recently spotted an article out of Lawrence Livermore National Laboratory detailing a new type of graphene aerogel that could improve energy storage, sensors, nanoelectronics, catalysis, and separations.
The researchers are creating graphene aerogel microlattics through a 3D printing process known as direct ink wetting.
This from Lawrence Livermore National Laboratory:
The 3D printed graphene aerogels have high surface area, excellent electrical conductivity, are lightweight, have mechanical stiffness and exhibit supercompressibility (up to 90 percent compressive strain). In addition, the 3D printed graphene aerogel microlattices show an order of magnitude improvement over bulk graphene materials and much better mass transport.
"3D printing allows one to intelligently design the pore structure of the aerogel, permitting control over mass transport (aerogels typically require high pressure gradients to drive mass transport through them due to small, tortuous pore structure) and optimization of physical properties, such as stiffness. This development should open up the design space for using aerogels in novel and creative applications," said Marcus Worsley, a co-author of the paper.
Find the research in the April 22 edition of the journal Nature Communications.
Make sure to take a look at all of our Focus Issues!