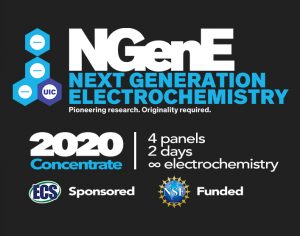 Next Generation Electrochemistry (NGenE) will be going digital for 2020! The FREE online program will focus on the frontiers of electrochemistry and is open to anyone interested in learning more! The program will be concentrated into four panels across two days and free for anyone anywhere in the world to view live via YouTube.
RSVP to receive updates and links to the panels or email Thomas Aláan at talaan@uic.edu to be placed on the list.
NGenE 2020: Concentrate
When: June 22-23, 2020
Where: Livestream via NGenE's YouTube channel
RSVP
*Select students will be permitted to join the Zoom panel discussion.
---
Scheduled panels
Date: Monday, June 22
Time: 10:00-11:30AM (CST)
Talk: "Frontiers in Energy Storage"
Batteries are now an innovation worthy of a Nobel Prize. But, are we done making them better? What fundamental questions remain in electrochemistry that impedes further meaningful advances? What are the limits that can be reached with electrochemical energy storage?
Presenters:
Stan Whittingham, Binghamton University
Héctor D. Abruña, Cornell University
George Crabtree, Argonne National Laboratory, University of Illinois at Chicago
Clare Grey, Cambridge University
---
Date: Monday, June 22 
Time: 1:00-2:30PM (CST)
Talk: "Integrating computational and experimental approaches at the electrochemical frontiers"
Many frontier challenges in electrochemical research are becoming too large for a single approach to solve them. It is increasingly important to create feedback loops between computational and experimental methods, and integrate their power wherever possible. But this goal is easier said than done. This panel will promote a dialog between disciplines that are very often walled off. What kind of experimental inputs would models benefit from? How could experiments and characterization be best guided by computations? Can computational analysis directly be integrated into data analysis of experiments?
Presenters:
Don Siegel, University of Michigan
Perla Balbuena, Texas A&M
Mike Toney, Stanford Linear Accelerator Center
Andrew Gewirth, University of Illinois at Urbana-Champaign
---
Date: Tuesday, June 23
Time: 10:00-11:30AM (CST)
Talk: "Frontiers in electrochemistry at the water/energy nexus"
Access to clean water is a vital tenet of a healthy society. Yet climate change and increases in consumption of energy place severe pressures on the water supply. How can emerging technologies based on electrochemistry contribute to producing clean water that is safe to drink? What fundamental barriers in electrochemistry must be addressed for these technologies to have a meaningful impact?
Presenters:
Jelena Radjenovic, Institut Català de Recerca de l'Aigua, Spain
David Jassby, University of California, Los Angeles
Brian Chaplin, University of Illinois at Chicago
Douglas Call, North Carolina State University


---
Date: Tuesday, June 23
Time: 1:00-2:30PM (CST)
Talk: "Frontiers in organic electrochemistry"
Electrochemical driving forces are a powerful means to reach chemical states extremely far from equilibrium. They have opened up new routes toward sophisticated modifications of organic compounds. What are the opportunities in the area of organic electrochemistry? How far are we in our ability to control carbon bonds with electrochemistry? What new knowledge is urgently needed for leaps in our current ability?
Presenters:
Song Lin, Cornell University
Kevin Moeller, Washington University-St Louis
Shelley Minteer, University of Utah
Phil Baran, Scripps Research Institute


---