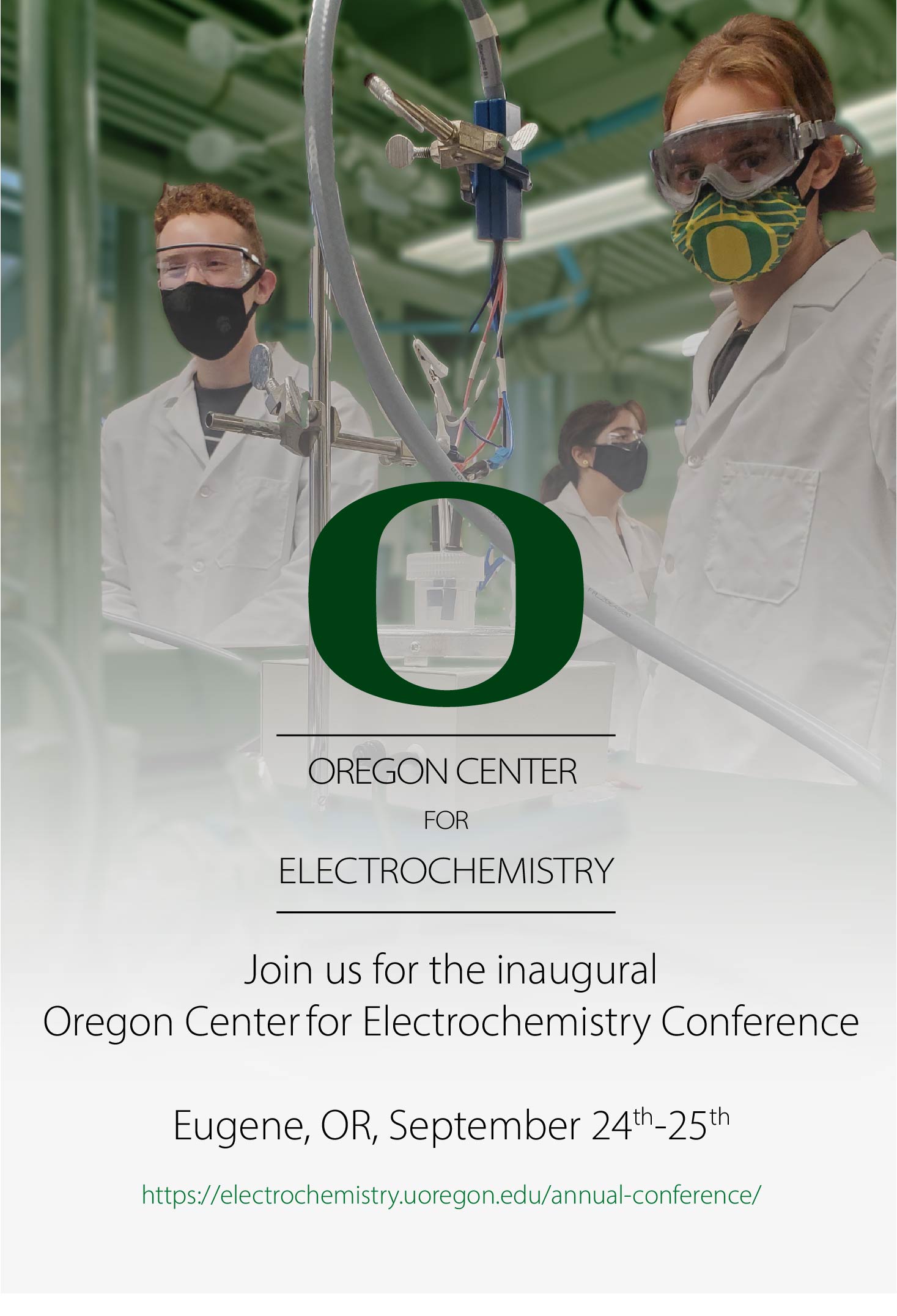 The ECS Pacific Northwest Section invites you to the Inaugural Conference of the Oregon Center for Electrochemistry on September 24-25, 2021.This annual conference is intended to showcase the excellence of electrochemical research occurring in academia and industry in the Pacific Northwest. The Oregon Center for Electrochemistry Conference is a sponsored meeting of The Electrochemical Society.
Dates
Friday, September 24-Saturday, September 25 
Time
Start: 1600h PST, September 24
End: 1600h PST, September 25
Location
University of Oregon 
Eugene, OR
Conference registration is free!

Presentations
Julia Song, ESS, Inc.
Jie Xiao, Pacific Northwest National Laboratory
Kelsey Stoerzinger, Oregon State University
and other leading faculty, national laboratory, and industrial speakers in the field
Poster session
Hosted on Friday evening, the poster session showcases student research and provides time for networking opportunities across the center's community.
Format
At this time, organizers expect to safely host the majority of attendees while following state and county guidelines. We also plan to accommodate those who need to attend virtually.
Sponsor
ECS Pacific Northwest Section
Learn more about the Oregon Center for Electrochemistry Conference and the Oregon Center for Electrochemistry.
Oregon Center for Electrochemistry (OCE)
Founded in 2019, OCE aims to educate the next generation of leaders in electrochemical science and technology. The center welcomes 20 new MS electrochemical technology students to Oregon in September.
ECS sections
The Electrochemistry Society's sections offer many opportunities for members to engage and expand their professional networks. Not a section member? Email customerservice@electrochem.org and ask to join your region's ECS section.