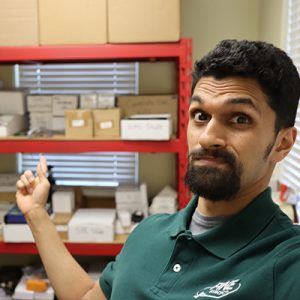 Alex Peroff, Ph.D.
Electroanalytical Scientist
Pine Research Instrumentation
We live in a world of instant gratification. Whether it's streaming video from Netflix, food from Doordash, or next-day delivery from Amazon, we can have it with the click of a button. And in large part, scientific equipment suppliers are keeping up. From online portals generating fast purchase orders, to maintaining sufficient inventory, scientific equipment suppliers are meeting the needs of research scientists. However, as I mentioned briefly in an earlier ECS Blog post, COVID has affected the global supply chain, and its impact has trickled down to scientific equipment suppliers.
Most news headlines reflect the microchip shortage and its impact on the automobile industry. However, the microchip supply is not the only culprit. Automobile manufacturers grew accustomed to receiving parts quickly. As a result, they never kept extra chips in stock. Why keep additional inventory when it could be delivered at a moment's notice? While it is undoubtedly a more economical and efficient system, its a vulnerability when your supplier can't deliver on time. Having spare equipment to do your work is a lesson I learned early on when I was a graduate student.
Lessons learned
When I started graduate school back in 2009 at Northwestern University, I learned two important lessons. First, figure out what lab equipment you need and purchase it immediately. Second, be very nice to the administrative staff who make those orders possible.
As a first-year graduate student, you are eager to start performing experiments as quickly as possible. However, taking the time to investigate the lab supplies you need is crucial to your success. I know many researchers who needed specialty chemicals only to find a four-week lead time to acquire that chemical—resulting in a four-week delay in their research.
I was fortunate to work in aqueous electrochemical systems, where the chemicals I needed were abundant and came from multiple suppliers. However, when I worked on building instruments such as high vacuum systems and custom electrochemical cells, the lead time tended to be much longer. While I couldn't have a spare instrument, I did have backup electrodes, salts, polishing materials, and other "consumables" so that I could still perform experiments if my supplier quoted me a long lead time. Preparation and having spare equipment were critical during my graduate studies.
From the supply side
Today, I am on the opposite end of the table, and things look very different. I work for Pine Research Instrumentation which manufactures electrochemistry equipment for the scientific community. Part of my job involves working with our manufacturing facility to ensure we have sufficient inventory to meet our customer's needs.
The lab equipment you purchase consists of many different parts. For example, something as simple as a 1 L container of concentrated sulfuric acid has many other pieces; the sulfuric acid itself, the glass bottle it comes in, the yellow plastic cap, the printed sticker on the bottle, and even the packaging are all components that come from different sources. If the supplier of the yellow plastic caps suddenly runs out of caps, then the supplier of sulfuric acid cannot ship. To make matters more complicated, the supplier of yellow plastic caps might be waiting on yellow ink, which comes from another supplier. However, if the supplier of caps had a sufficient stock of yellow plastic caps, they could still supply the caps to the sulfuric acid company while waiting for yellow ink to arrive. I would even speculate that companies that were less affected by the disruption to the global supply chain kept additional inventory of items they use.
An ounce of prevention
I am inherently biased about purchasing scientific equipment because I work for a company that sells scientific equipment (I'll completely own that). But I write this article as a cautionary tale about how lead times for scientific equipment might be affected by the disruption to the global supply chain. To whoever you purchase scientific equipment from, I recommend taking inventory of your lab and thinking about what equipment and chemicals you need in the future. Scientific equipment can be expensive. However, losing time to do experiments may be more expensive.
Join the digital conversation with Pine Research Instrumentation on Twitter,  Facebook, and YouTube.
A special thank you from ECS to Pine Research Instrumentation, an ECS Institutional Member at the Benefactor Level—and generous supporter of ECS biannual meetings.