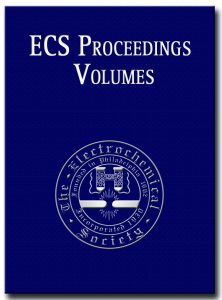 ECS is pleased to announce the addition of over 450 proceedings volumes to the archival content available through the ECS Digital Library.
ECS Proceedings Volumes contain papers presented at ECS biannual and topical meetings. Between 1967 and 2005, ECS published over 600 PVs, all of which are out of print and had been unavailable in digital format—until now.
Seeing a recent uptick in requests for this content, the Society determined that the best way to make this difficult-to-find content widely accessible while supporting the Free the Science initiative was to make it freely available to read and download.
The content included in these proceedings volumes not only charts the history of the Society and many of its long-running symposia, but also encompasses many decades' worth of vital research that is still being utilized to this day.
Thanks to the generous assistance of grants from the Army Research Office, the following collections have been digitized and are available to browse at an article level through the ECS Digital Library:
Solid Oxide Fuel Cells (8 volumes)
Molten Salts (14 volumes)
Proton Conducting Membrane Fuel Cells (4 volumes)
Additionally, the following volumes were digitized with the help of IEEE in honor of the 30th anniversary of the IEEE International Symposium on Power Semiconductor Devices and ICs:
High Voltage and Smart Power Devices
High Voltage and Smart Power ICs
The remainder of the 450 PVs are now free to read in full on Google Books as part of Google's ongoing Library Project. PVs available through Google Books can be read online using Google's preview mode, or may be downloaded in full as a PDF file.
Please visit the ECS Digital Library for a full listing of available content.