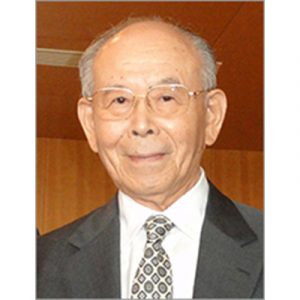 Submission Deadline: July 31, 2019
Submit your manuscripts to the ECS Journal of Solid State Science and Technology (JSS) Focus Issue on Recent Advances in Wide Bandgap III-Nitride Devices and Solid State Lighting: A Tribute to Isamu Akasaki.
About Isamu Akasaki
Isamu Akasaki has devoted much of his research career to the development and advancement of efficient GaN light-emitting diodes via a metalorganic vapor phase epitaxy growth process. This approach led to the discovery of p-type GaN with magnesium doping and ultimately to the invention of the first GaN p-n junction blue/ultraviolet LED in 1989. Subsequent work by Akasaki's group led to advances in conductivity control of n-type GaN and related alloys by doping with silicon, allowing for the use of hetero structures and quantum wells in the design and fabrication of even more efficient p-n junction structures and the development of wide bandgap III-Nitride semiconductors for solid state lighting and related technologies. These groundbreaking efforts were recognized in 2014 with the Nobel Prize in Physics.
In the three decades since this breakthrough discovery, we have witnessed a revolution in lighting which has seen GaN-based white LEDs displace incandescent and fluorescent lamps because of their energy efficiency, reliability, and flexibility. Further advances have positioned GaN electronic devices for applications in communications and power technologies.
As a tribute to Professor Akasaki, the ECS Journal of Solid State Science and Technology will publish a focus issue providing a panoramic view of GaN LEDs, phosphor systems, solid state lighting, lasers, and related technologies.
Topics of interest include but are not limited to:
Defect Engineering and Structural Characterization
Devices (LEDs, laser diodes, sensors, etc.)
Device reliability
Electrical and Optical Properties
Emerging Materials (III-V-N, InN, etc.)
Epitaxial Growth
Light extraction methods
Nanostructures (QDs, nano-wires, nano-rods, etc.)
Novel phosphors for blue and UV LEDs
Plasmonics for luminescence enhancement
Phosphors in high photon flux systems
Phosphor composites, including ceramics and glasses
Phosphors for designing novel human-centric luminaires
Theory and Simulation
All papers published in this focus issue will be OPEN ACCESS at NO COST to the authors! *
Submission Deadline | July 31, 2019

Be sure to specify your submission is for the JSS Focus Issue on Recent Advances in Wide Bandgap III-Nitride Devices and Solid State Lighting: A Tribute to Isamu Akasaki.
Papers accepted for this focus issue are published online within 10 days of acceptance. The issue will be created online as the articles are accepted, with the final article published in January 2020.
---
JSS Technical Editor
Kailash C. Mishra
Osram Sylvania (retired), USA
Kailash.Mishra@electrochem.org
Guest Editors
Hiroshi Amano
Nagoya University, Japan
amano@nuee.nagoya-u.ac.jp
Jung Han
Yale University, USA
jung.han@yale.edu
Michael Kneissl
Technische Universität Berlin
kneissl@physik.tu-berlin.de
Anant Setlur
GE Global Research, USA
setlur@ge.com
John Collins
Wheaton College, USA
jcollins@wheatonma.edu
Won Bin Im
Hanyang University, Korea
imwonbin@hanyang.ac.kr
Tae-Yeon Seong
Korea University, Korea
tyseong@korea.ac.kr
Tadek Suski
Polish Academy of Sciences, Poland
tadek@unipress.waw.pl
Eugeniusz Zych
University of Wroclaw, Poland
eugeniusz.zych@chem.uni.wroc.pl
---
*ECS is waiving the article processing charge (APC) as part of the Society's Free the Science initiative.
Find out more about ECS Journal Focus Issues and the ECS Free the Science initiative.